I first saw
MollyGirl Yarns
in January at Vogue Knitting Live and was immediately inspired by their candy colored yarns. Six months later, Jersey Shore Knits was published and MollyGirl was a huge contributor to the project, working to pick the perfect colors for the
Ferris Wheel Shawl and later offering project kits in their online store
. Angela, the owner of MollyGirl, was kind enough to answer some interview questions and share images of her yarns.
Q
. What are your names?
A.
My name is Angela. The rest of my "team" involves my boyfriend (commonly referred to merely as Boyfriend, but his real name is Mark), a petulant fluffy rescue kitty named Bosco, and a cute if somewhat impish 6 month bichon/shih-tzu mix named Izzie. The latter two generally just sit and look cute, but I like to say they're for morale.
Q
. Can you share a little about your business and how you got started?
A
. I started out by selling stuff I had knitted & crocheted at craft shows. My mother signed me up for my first craft show at my old middle school when I was in high school, declaring I needed to clean out my stash of FOs. I did the north Jersey craft circuit for quite a few years but I was frustrated. I wanted to do something that set me apart from the tables full of people with their $5 Red Heart scarves.
So in 2010, having finally gotten into Ravelry and thereby discovering hand-dyed yarn, I thought I would give that a go. Just something else to have at shows to set me apart. The dyeing very quickly took over, though it took me a few years to really pin down a technique. In 2013 I stopped using the company name I'd developed in high school. Yarn Monkey Productions, and
MollyGirl
was born. Named after my bestie, a shih tzu named
Molly
, and revolving around music, it was meant to be a perfect marriage of my passion for fiber arts and my Music Business degree. The music half has sort of fallen by the wayside to this point, but who knows where we'll go next!
Q.
What about your yarns, colors, or dye process sets you apart?
A.
I love, love, love color, the crazier the better, and so all of our colors are super saturated. I couldn't tell you any of the "processes" I use even if I wanted to - I'm as self-taught as can be. I've never taken a lesson and my reading on the subject doesn't extend past how to affix the dye to the yarn (powdered citric acid, a dyer's best buddy!). All of my techniques are the result of extensive trial and error - generally more error than anything else. But some of my favorite colors are the results of mistakes, and I think it makes for some truly unique yarn.
Q. What inspires your colors?
A. Music! All our colors are named after songs, and our bases are also musically-oriented. Sometimes the song inspires the color, sometimes the color reminds me of a song, but music is always a factor.
Q
. Do you craft with your own yarns?
A
. Sometimes! Not nearly often enough, I think. It's a treat for me. I'm always so worried about keeping the shop full that I feel greedy keeping too many of them. You will find more than a few skeins hanging out in my stash on Ravelry though.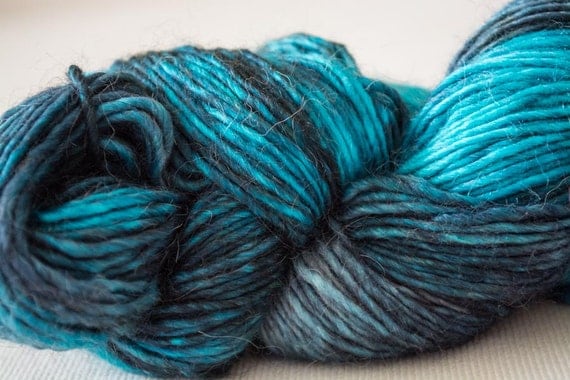 Q.
What is your personal favorite yarn to work with and why?
A
. It completely depends on what I'm making. I almost never knit with fingering weight yarn, but if I have something special that calls for it, Duet is my go-to because it's super soft & blocks like a champ. For something soft & snuggly for someone that I know won't accidentally toss it in the washing machine, Aria is my FAVORITE. I actually refer to the combination of baby alpaca, merino, & silk as "the trifecta" because it's just the BEST fiber blend, in my opinion. For something that needs to be washable, Rock Star is a no brainer. I'm going to be an aunty come the fall, so I've been making a lot of baby items and let's just say there'll be at least a few made out of Rock Star.
Q.
Where can people find your yarns – in addition to an online shop, do any local stores stock your yarns, do you go to craft shows, do you also sell patterns or tools that crafters would be interested in?
A.
Yes to all the above
. In addition to our
online shop
, there are three stores in north Jerz that stock them (a full list is always available on our website). I'm hoping to add to this number very soon, too. I also do fiber festivals as often as I can. We did Vogue Knitting Live this past January and will be doing it again in 2016. I'll also be at the New Jersey Sheep Breeder's festival in September and the North Jersey Fiber Arts festival in August. Setting up a few trunk shows for the summer too. And I do some designing as well - patterns are also available in our online shop or, of course, on
Ravelry
.
All images provided by
MollyGirl Yarns
Note: MollyGirl Yarns is having a trunk show this Saturday, July 18th at Llama Llama Ewe in Ridgefield Park , NJ.